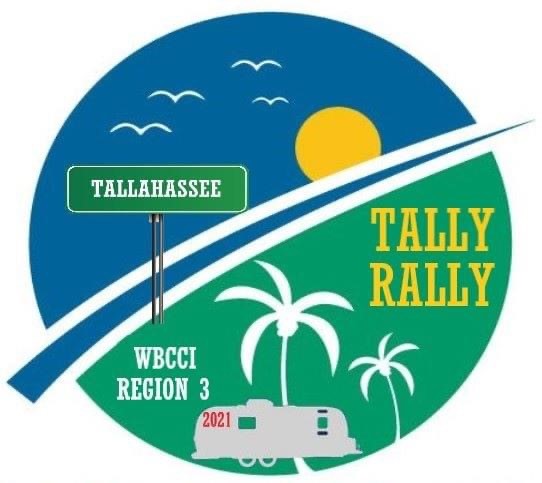 Breaking News! 
We now have a day pass available, but you need to register online by April 18.  Payment, by check, is due at the Registration Table (check agenda for hours of operation) when you arrive.
To rally or not to rally - that is the question. (with apologies to Shakespeare)
After careful consideration of the many facts and opinions we received concerning whether or to not to have a Region 3 Rally this year, we have decided to go for it.  Everyone is concerned about COVID-19, and rightfully so, but for the most part they are also ready to get out of the house and get their Airstreams back on the road!  In fact, many of you are already out there soloing or gathering for local rallies. So, the 2021 Region 3 Tallahassee 'Tally' Rally is officially on.  Please plan to join us April 21-25 for a Silver Celebration inside the Capitol Circle in historic Tallahassee Florida.
We are planning four days of fun, friends, and food at the North Florida Fair where we have parking for over one hundred rigs.  We have a large meeting room with full kitchen, stage, and sound system.  We have put together seminars, craft events, demonstrations, happy hours, lots of meals and, of course, entertainment.  We have found local talent from the active music scene that surrounds the FSU campus, and will also have a jam session for our resident musicians, so bring your instruments with you.
All sites are on grass and have 30/50A electric and water.  There are two dump facilities.  Come with empty tanks and you should be fine for four days.
We are setting the rally fee at $250 per Airstream.  That includes all parking fees which were negotiated at a fantastic price by committing to a minimum of 100 rigs for 4 nights. 
We will be posting updates here and in email blasts as they are available. 
Don't want to register online?  Submit the form below, by April 11, 2021, along with your check using the instructions on the form.
CHECK OUT THE UPDATED RALLY SCHEDULE!
Stay tuned for more breaking news!
Cancellation requests are due by April 10, 2021 for a full refund!