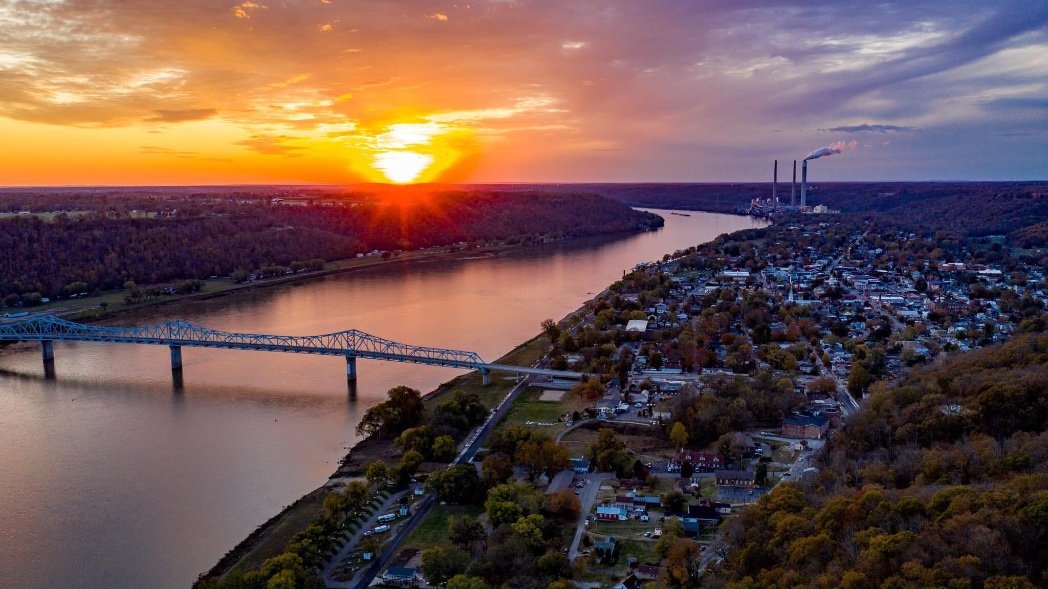 "Meet me in Madison II"
This Year our Region 5 Rally will be Sept 14-18th in Madison, Indiana. It will be held at Jefferson County Fairgrounds, 3852 State Route 256, Madison, Indiana 47250.
We had a Region 5 Rally at this location in 2016. The city gave us a very warm reception and was very helpful making our Rally a great success.
The week of our Rally, Vintage Thunder racing boats will fill the Ohio River Valley with thunderous sound!

Price is $250.00. The price includes 4 nights of camping, (early arrival available on Monday and Tuesday for $20.00/night. 30 amp electric, dump station.
We will have entertainment 2 nights, one night of charity games, 3 breakfasts, and a banquet dinner, tours, and Trolley Rides.
More info will be forthcoming.
Registration Coupon will be in the Blue Beret Magazine May, June and August issues.
Register Online CLOSED

Excerpt taken from the Madison Tourism Guidebook:
Welcome to Madison, Indiana, a picturesque community that not only celebrates its rich history, but also incorporates the convenience of 21st century living. Madison sits along the banks of the mighty Ohio River surrounded by beautiful Clifty Falls State Park and retains the distinction of the largest contiguous National Historic Landmark District in the U.S. Designated as one of Indiana's Stellar Communities and a finalist in the America's Best Communities competition, Madison continues to demonstrate its commitment to preservation. From our beautiful river town with its rich history, unique architecture, and quality of life, to amazing festivals and events, we are committed to make Madison not only a haven for visitors but for residents as well. Visitors from all over the world continue to enjoy such things as river tours on the only New Zealand Jet Boat in the Midwest, spending an entire weekend at one of our festivals or events, or just relaxing at any one of our breweries or wineries. The American Queen and American Duchess
are popular visitors docking on our riverfront while their passengers explore downtown Madison's wide variety of shops and restaurants. From outdoor and indoor performance venues, and an abundance of arts and cultural activities, Madison offers year-round activities and entertainment for residents and visitors alike.

Pam and I are looking forward to seeing everyone!
"Meet me in Madison II"
Artie Martin
Region 5-1st VP WBCCI# 213
Wednesday Sept 14, 2022  
Arrival and Set Up  
Registration will happen 2-4 pm.  
****When you come to registration, Please bring a wrapped gift for our gift exchange  scheduled for Thursday evening.  
A gift valued at $20-$25. Only 1 gift per Airstream. If you don't bring a gift to registration,  you will not be able to participate in the gift exchange unless you make prior arrangements to supply a gift.  
Flag Ceremony begins at 7pm  
Ice Cream Sundaes following ceremony
 
Thursday 8:00 am  
Breakfast prepared by the Ky Airstream Club  
10:00 am leave for Madison Visitors Center for Tours  
10:30 Tours begin. We will split into two groups taking Trolley Rides and Touring  DR Hutchings doctor office circa 1900's. Then switch groups
 
Lunch and Dinner on your own  
7:00 pm announcements around the campfire behind the building. Bring chairs  and enjoy an old fashioned campfire with Artie Martin entertaining.  
7:45 pm Airstream gift exchange.  
 
Friday 8:00 am  
Breakfast prepared by Central Indiana Airstream Club
 
10:00-11:30 Region 5 annual Business Meeting  
12:00 pm Presidents and Staff Luncheon (invitation only)  All others lunch and dinner on your own
 
7:00 pm Announcements  
7:15 pm Vocal Group "Kaleidoscope"  
8:15pm Door Prizes, Gifts, Raffles, Split the pot, Silent Auctions
 
Saturday 8:00 am  
Breakfast prepared by Illinois Lincoln Land Airstream Club  
9:00 -9:30 Flea Market Set up  
9:30-11:00 Flea Market

Lunch on your own  

1:00 - 1:45 pm Damon Beals presents "How to navigate WBCCI Website". 
2:00 – 2:45 pm Glenn Hull presents "Dexter Axles"  
4:30pm Leave for Clifty Falls Buffet Banquet  
 
7:00 pm announcements  
7:15 door prizes and raffles etc.  
Charity Airstream Bingo
 
Sunday 10:00 am  
Devotion  
Close Rally