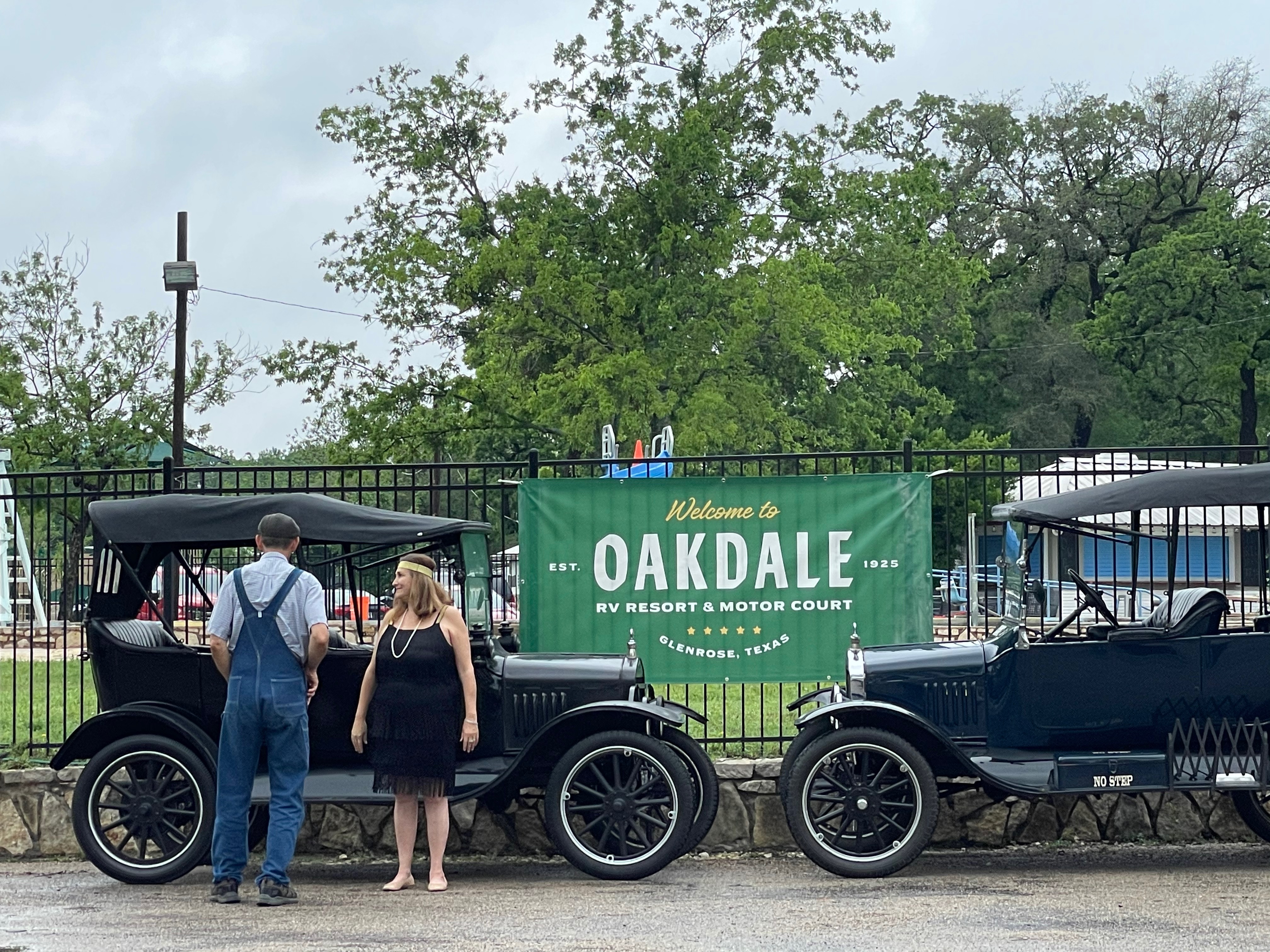 Please join us for both our November Membership Meeting and annual Officer Installation Rally at the lovely historic Oakdale Park in Glen Rose Texas.  Glen Rose sits right on the beautiful Paluxy River and offers multiple attractions for those of all ages.  Just across the street from the park is an easy walking path up the riverbank.  Known as the "Dinosaur Capital of Texas," kids of all ages will love the various places to explore dinosaurs as well as the drive through Fossil Rim Wildlife Center.  For a full description of all Glen Rose has to offer check out this link:  https://oakdalepark.com/whats-nearby/.  Please make your reservations identifying yourself as a member of North Texas Unit of Airstream at 254-897-2321. 
Schedule:
Friday, November 19th
5-6 PM: Wine tasting and competition at the Casino:  Bring your favorite bottle(s) of wine, red or white, sweet or dry, and under $20.  We'll have four categories:  White, Red, Sweet, and Dry.  Winners take home a bottle of their favorite style of wine!
6-7:00 PM: Pulled-Pork Dinner catered by a local Glen Rose chef, $15 a person
7:00-???  S'mores by the campfire! Games!  Dominos, cards, or Joker--let's see what kind of fun we can have while we catch up on our traveling stories.

Saturday, November 20th
9:00 AM: For those of you with bicycles, join Philip Vasquez on the Glen Rose monthly "ABC" ride on Texas country roads--meet at the front of the park
11-12:30 PM: Membership meeting (affiliates welcome, just can't vote); bring your own lunch and we'll provide water, iced tea, and coffee
12:30-4:00 PM: Afternoon on your own to visit, explore Glen Rose, or get your entry ready for a Dutch Oven Cook-Off!
4:00-5:00 PM: Dutch Oven Cook-Off judging 
5:30-6:30 PM: Potluck Dinner with Cook-Off leftovers and whatever else you would like to bring
7:00-8:30 PM: Installation Ceremony, by the campfire if weather permits

Sunday, November 21st
8:30-10:00 AM: Coffee and pastries provided; you bring the "see you on down the road" smiles and hugs.