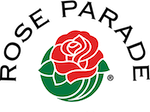 Region 12 is again hosting the 39th Rose Parade Rally in Pasadena, CA from December 28, 2019 – January 1, 2020. It's dry camping only a couple of blocks from Colorado Blvd, site of the 131th Rose Parade on January 1, 2020.
The rally fee includes four nights of no power, water or electricity in a fenced area. We rent a large tent for socializing and meals. You will enjoy three breakfasts, two dinners, a pot-luck, tour opportunities and reserved grandstand seats for perfect viewing.
This is a totally Dry Camping Event! (If you use a CPAP device you will need to have a rig or battery operated system). Restrooms are available with flush toilets, but no showers.
You will receive a copy of the official parade program. Tickets to Rose Parade Events, which include: Float Viewing, Bandfest, and Equestfest will be available for you to purchase from the Rally Hosts. For more information on these events see the: Tournament of Roses Events. (Please do not purchase tickets from the site.) Additional rally information will be sent to you after your registered.
The Rally is always great fun. Pasadena offers many tourist attractions, the Tournament of Roses activities and of course ringing in the New Year with your WBCCI friends. Also, our rally site offers shopping across the street, including Trader Joe's, Macy's, Starbucks, Pavilions Market, etc.
We limit the rally to 30 Airstreams.  This Rally is FULL and we have started a wait list.
If we cancel the rally, we will refund your fees. If you cancel, refunds will be at the discretion of the hosts.  
For more information, contact Tom Smithson at (916) 802-0443 or
tscats@mac.com.