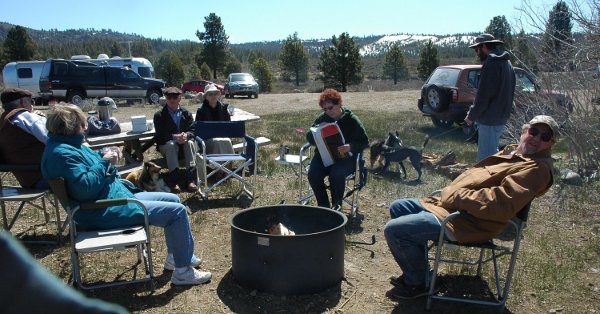 Boca Rest Campground, between Reno and Truckee, has been a Sierra Nevada Unit favorite for Spring and Fall rallies. We experience crisp nights, bright sunny days and great views of Boca Reservoir to the west, Russell Valley and the Truckee River Valley to the north and snow covered Boca Ridge to the east. Records for the area near Truckee tells us that May promises to deliver mostly clear skies, no real chance of rain, highs in the upper 70s and lows in the mid 40s.
An evening group meal or potluck will be optional since we will be following COVID guidelines but they are less onerous now, especially since many of us have had our shots! You may choose to eat in your Airstream or pick a spot among us to eat. Many of you haven't camped or rallied with the SNU for some time so head out to Boca on Thursday May 20th or Friday the 21st and rally with us.
Can't make the whole time or camp. Drive up and visit us on any day, it's only 28 miles from Reno! Boca campground does have have one or two community water taps, but we'll be boon docking with no hookups so fill your potable water tank at home.
Here is the important part, All campsites are available for reservation because Boca is a popular campground. Over 25 of the sites were still available for trailers and motorhomes 30' as of this writing. We suggest that you make your reservation now to ensure you have a site since there may be no sites available for first come first serve. It looks like we can share a site with another RV so contact us if you can't get a site. Please RSVP to the club email address snu157@wbcci.net or contact your editor if you have any problems or questions.
Make your reservation at the recreation.gov website or call them at (877) 444-6777.
Make sure it's for for Boca Rest Campground in Tahoe National Forest (Boca Campground and Boca Springs are different nearby campgrounds). Also make sure to use your Senior Pass or other American the Beautiful Pass if you have one.