EVENT
|

Apr 22 - 25, 2021
Spring Time @ Indian Island Rally
Time to come out of Hibernation. Let's get together at Indian Island to kick the season off with a good time.

We are happy to say, we have a Rally Circle reserved with 14 sites. If you are interested in attending please respond to Mary and Ted, your Rally Hosts. The dates are Thursday, April, 22, 2021 through Sunday, April 25, 2021.

Ted
tedstrickroth@yahoo.com

Mary
mmorello@optonline.net

Please know that our greatest intent is to make this rally a fun but safe outing. Unfortunately, we will not be planning any prepared or shared meals or happy hours. Food will all be on your own. But, we can have great conversation, rig help, walks in the woods, enjoy the water-front and share a warm campfire. Bring your bicycles, outdoor games and kayaks. I know we are eager to have a good time and are so excited to see each other and meet some of our new members.

Again, the circle only has 14 total sites and therefore, if you are interested, please respond as soon as possible. If we have more than 14 respond, then we will ask that you make a reservation directly with the campground and request a site as close as possible. We'll let you know when we reach 14.

No need to send any rally fees at this time. The only fee collected at this rally will be for the nightly campground fee which will be collected at the rally.

For those of you who will need to book directly, then no fee will be collected from the rally hosts as you will pay the park directly.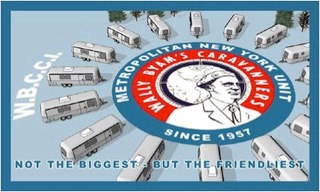 Event Contact
Ted Strickroth or Mary Morello