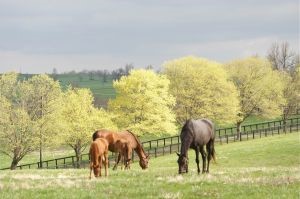 N-2022-Y
Springtime in Kentucky
Come join us as we show you the beautiful, diverse state of Kentucky just as spring emerges and mother nature shows off. You'll experience all this and much more!
From natural wonders: Mammoth Cave National Park, Lost River Cave, rolling hills and small towns, Natural Bridge and the Cumberland River waterfall.
To man-made adventures: The Corvette factory, handmade crafts in Berea, legendary racetracks, Thoroughbred retirement farms, distilleries, historic homes, , coal mining country, Loretta Lynn's Butcher Hollar Home, bluegrass music.
And of course, culinary adventures: A luncheon on a paddle boat on the Ohio river and a candy factory.  Sweet! 
Come join us during Kentucky Derby week and feel the excitement of the  2022 race. "The Greatest Two Minutes in Sports."
Ladies bring your derby hat (the bigger the better).  Hear the music, taste the food, meet the people and enjoy the 15th state of the union.
Start Date:  4/27/2022 (Tentative)
Start Location:  Bowling Green, Ky
Stop Date:  5/19/2022 (Tentative)
Stop Location:  Berea, Ky
Total Number of Nights:  23 (Tentative)
Number of Stops:  5 (Tentative)
Leaders & WBCCI # Bruce & Lynne Kollmar #5887
Cell phone:  631-252-4150
Email:  springtimeinky2@gmail.com
Maximum RV Units/With Leader(s):  26
Kitty Fee w/2:  $3,250
Kitty Fee w/1:  $2,500
Guest:
Deposit Amount:  $300
Dates of Payments (if applicable)
          1.  September 15, /2021 $1,475
          2.  January 15, 2022 $1,475
Cancellation Fee:  $100 after Deposit Payment Made plus non-refundable reservations.