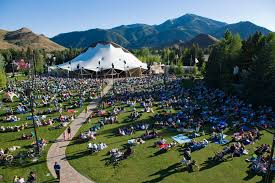 PLEASE NOTE:  This year the Festival and Parking Fees are_not_being collected by the Rally Organizers! When you finish registering for the Airstream Club National Rally, you will need to REGISTER FOR THE SUN VALLEY FESTIVAL at https://www.visitsunvalley.com/event/sun-valley-jazz-and-music-festival-2/ to pay your Festival and RV Lot Parking fees. Those with a volunteer position confirmed by the Volunteer Coordinator and contributing 12 hours to the festival receive their festival pass and parking free as a "thank you" from the Festival.  Those who wish to volunteer are urged to register early (as soon as possible after Memorial Day) to ensure their requested volunteer position.
The rally fee is $13.00 per person and attendees pay their own admission and parking. With our code (contained in registration confirmation email)  the Early Bird fee is guaranteed.
There are no refunds after September 1, 2022.
Although the festival officially begins on Wednesday, October 12th, our Rally begins one day earlier, on Tuesday, October 11th. Parking opens Monday, October 10 at noon.  We will have Social Hour Tuesday, October 11th at noon and give you time to enjoy the area earlier in the day. Our heated rally tent will serve as our informal gathering place for small events and coffee in the morning, 
Over 40 of the best musical groups – some from around the world – 200 performers in all – take the stages daily in the several venues at the Sun Valley Ski Resort, nestled in the heart of the Sawtooth Mountains, during the peak of autumn colours. Sun shining through the golden aspen leaves makes for spectacular scenery for biking, hiking and fishing. From Orlando, New Orleans, St. Louis, Sacramento and places in between, musicians arrive in Sun Valley ready to make musical memories. There's vintage jazz, big band jazz, swing, zydeco, blues, cabaret and more music played and sung by soloists, duets, small combos and big bands. The Midiri Brothers, Yve Evans, Bob Draga, Cornet Chop Suey, Carolyn Martin Swing Band, Bruce Innes Trio, Tom Rigney & Flambeau, Gator Nation, and Tom Hook are coming, to name a few of the groups at this year's festival.  The festival is organized into 1-hour sets with time between to move to a different venue for the next. You can choose to spend most of your time in one venue and see most of the groups or follow your favourite from place to place. See the Sun Valley Jazz and Music Festival website https://www.sunvalleyjazz.com/ .
In addition, there are silent movies and dueling pianos. You can take dance lessons and learn the Lindy Hop, the Charleston and the Fox Trot.
There is free Jazz in the Square (in Ketchum), and special ticket events including a Kickoff Party Tuesday night, and an Afterglow Dinner Sunday evening. (Requires additional ticket) Priority Seating continues again this year, with a special pass. For $125 per person, you can be assured of the best seats for each set (open to others after the first 10 minutes).
For those who want to enjoy other activities in the area including the Trailing of the Sheep Festival www.trailingofthesheep.org, our RV Parking (dry camping only) is available beginning as early as Wednesday, October 6th.  RVs must be self-contained; however, free use of luxurious bath and shower facilities at the lodge (a 3-minute walk) is included. Generators are permitted 7 am to 10 pm. Weather is highly variable at this time of year and freezing nights are possible.
Other Camping Choices
For those who prefer hookups or need them for cold-weather camping, two campgrounds are available in the area. Because of high RV camping demand for the Trailing of the Sheep and the Jazz and Music Festival, those wishing to camp off site are encouraged to make reservations early. The Trailing of the Sheep Festival is a highly rated destination event that's easy to combine with the Sun Valley Jazz Festival and has events throughout the local area. It runs Wednesday, October 06 through Sunday, October 10 this year. The Sheep Parade is on Sunday, October 10 at Noon.
COVID 19 Matters
The Airstream Club Rally will be following all regulations and requirements in place by all authorities having jurisdiction to stop the spread of the virus.
The Festival(s) regulations and requirements are not the responsibility of the Club. Members attending the Festivals are subject to their respective operational regulations.and requirements.
For further rally information

Contact one of your rally co-hosts:
Bob and Darlene Caldwell: airstream267@gmail.com (780) 964-5444   or
Tom and Marilyn Usselman: usselmant@hotmail.com