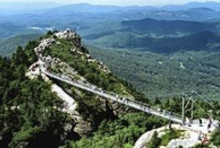 N-2021-K
Taste of the Blue Ridge
Have you ever wanted to hike on the Appalachian Trail, fly through treetops on a zip line, tour beautiful gardens, fly fish in rushing streams, go horseback riding on mountain trails, explore caves, bicycle (downhill) on an old railroad bed past waterfalls and scenic vistas, see Monticello and one of the oldest public universities in the US, whitewater raft the Nantahala Gorge, enjoy a world class spa, tour America's greatest "castle", and listen to true, old-time bluegrass music? Then bring your camera, binoculars, fishing gear, hiking poles, and--most importantly--sense of adventure and come vacation with us in the Blue Ridge Mountains!
We will begin in Bryson City, NC, close to the home of the Eastern Band of the Cherokee Nation, then make our way to beautiful Asheville. From there we will boondock three nights at Linville Falls before coming back to civilization in funky Boone, NC. Next is Galax, VA for bluegrass music, and three more boondocking nights at Peaks of Otter. We will end our journey just outside the historic towns of Charlottesville and Staunton, Virginia for a total of 500 caravan miles.
Be aware that trailers longer than 30 feet are discouraged from this caravan as we will be traveling on narrow, winding mountain roads and camping in small campgrounds. Your rig and driver need to be in top notch condition. The weather could range from freezing to the 90's. There will be little or no WiFi and some cell coverage with Verizon. Other carriers have limited coverage in these mountains. We suggest you call for availability before submitting your application. 
For the 2021 caravan call Ray Combs (336) 558-5532, for the 2022 caravan call Becky Martin (919) 637-6883
Start Date: May 18, 2021 Start Location: Bryson City NC
Stop Date: June 12, 2021 Stop Location: Greenwood VA
Total Number of Nights: 26
Number of Stops: 7
Maximum RV Units/With Leader: 21
Kitty Fee w/2: $3400
Kitty Fee w/1: $2250
Guest: $1150
Deposit Amount: $500
Dates of Payments
1. January 31 2020, $500 deposit
2. July 31 2020, $1450
3. January 31, 2021, $1450
Cancellation Fee: $100 before December 31, 2020
Leaders discretion after December 31, 2020