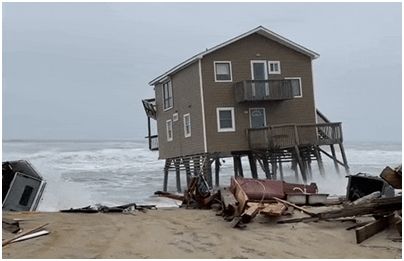 Our final camping rally for the year, the "2022 Grand Finale" Rally, will be held Nov 11-13th at the Camp Hatteras Campground, Rodanthe NC.
Rodanthe made the news this year with the loss of a few beachfront houses due to a storm (see above). But, Spirit of Virginia has been storming into town in November for about 8 years now. As in previous years, we will camp on the Sound adjacent to the clubhouse (for our sole use). Both "Sound Front" and "Soundside" sites are still available at our special rate. Call the office to secure your site (252) 987-2777 and tell them you are with the Airsteam Rally. The special rate will also apply to extra days/nights before or after the rally if you feel inclined.
There is no cancellation charge for up to seven days before the rally. So don't wait, call now.
P.S. There was some trash-talking going on at the recent "Catch the Summer Spirit" Rally. So, it sounds like the fourth annual MEATLOAF MANIA competition may be on.