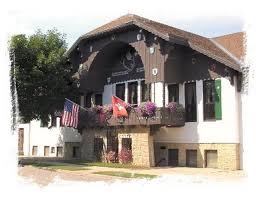 Green County is one of our favorite destinations and its not just because of the beer and the cheese.  I have not yet narrowed the list of things we are going to be doing at the rally, but there are things for everyone!  Did you know that Limburger Cheese is made in two places, France, and Monroe Wisconsin.  Our favorite stop is the Baumgartner's Cheese Store and Tavern, where they are famous for their Limburger cheese sandwich. (No, I have never tired Limburger, and they have lots of other good sandwiches!)  The tavern has been open since the 1930's and hasn't changed much. 
Green County has the largest concentration of master cheese makers in Wisconsin and has a great museum showing how cheese was made in bygone times (National Historic Cheesemaking Center).  There are two trails with miles of bike or hiking opportunities.  The county roads offer beautiful bike rides showing off beautiful farms.  Green County Farms frequently display barn quilts that are amazing.   The Badger State trail is 40 mile and features an old train tunnel.  And beer, New Glarus Brewery, offers self-guided tours and has a beer garden with view of the countryside.  Minhaus is in Monroe and is one of the oldest breweries in the state.  When we were young, many years ago, they were Huber Beer, and I think we could buy a case for $1.99—of course that is what we drank!   Monroe has a downtown shopping experience that includes many unique shoes. One shop creates perfume based on your Zodiac sign. 
New Glarus is America's Little Switzerland.  This quaint village has old world architecture, ethnic dining and of course the brewery.  It is home to the New Glarus Woods State Park.  The LInstroth's Valley View Farm is great if you have a green thumb (ED).  On this farm they do everything by hand, whether its planting, weeding, or harvesting. The Chalet of the Golden Fleece is a snapshot of the village's rich Swiss history and a must visit for any history buff.  (I love the name!) And the Swiss Historical Village Museum illustrates pioneer life in New Glarus. 
There are wineries, distillers, waters to paddle or tube.  We will be camping at the Green County Fair Grounds.  Please let us know if you have any places you want to definitely see or experience. 
     Linda and Charlie Meinholz.