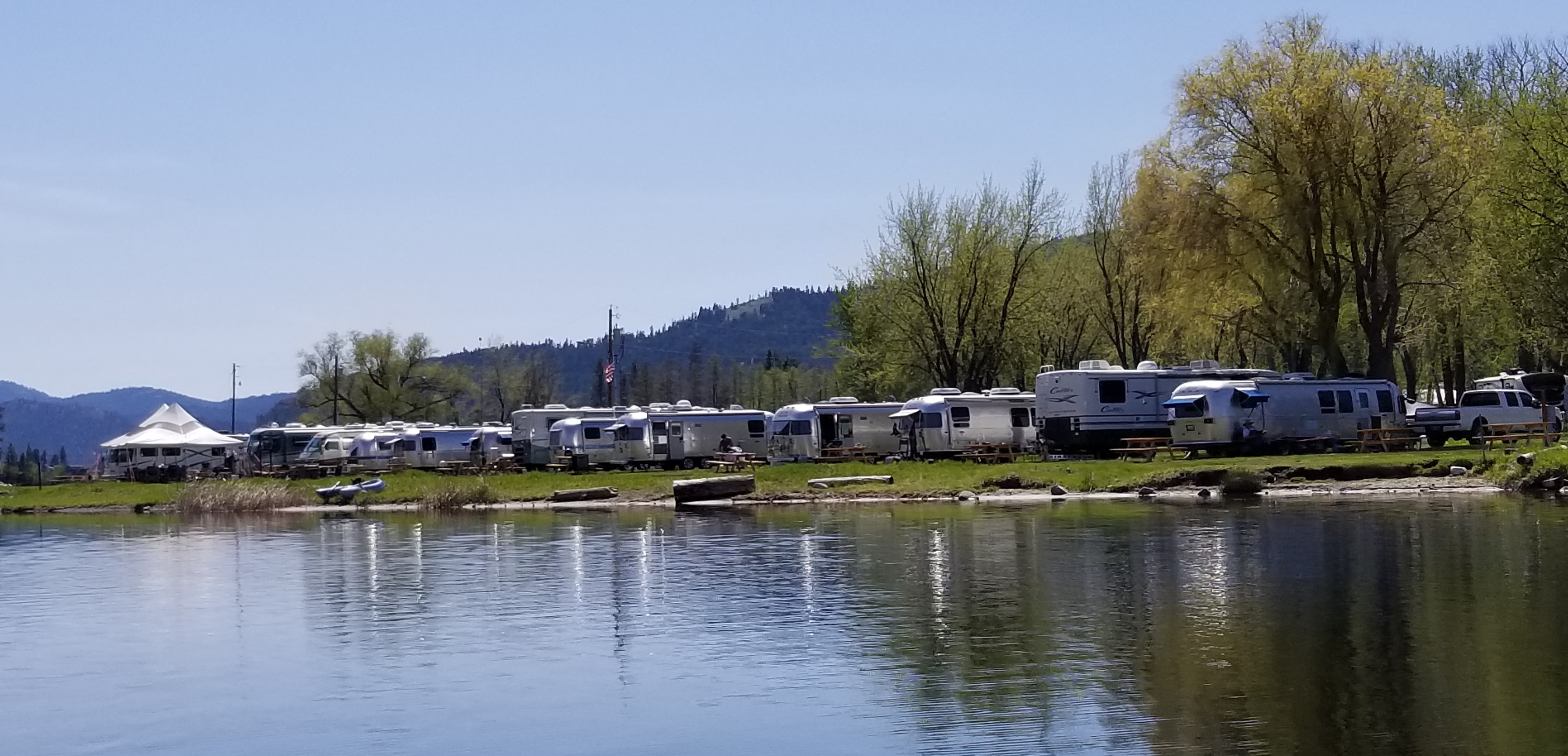 We sure hope you can join us for both sections of the Caravan for some great fishing, fun, exploration and relaxation! It will be a "Buddy" event, so please invite your friends with a non-Airstream RV.
---
---
The WA Unit Cinco de Mayo Rally will be May 5-7 at the Land Yacht Harbor, so you can plan to start the Fishing Caravan right afterwards! Some of us will leave that Sunday the 7th and stop at Beebe Bridge on the way to Republic. (This stop will help break up the long drive).
Black Beach Resort is located at 848 Black Beach Road, Republic WA 99166. (509-775-3989). If you are driving straight through from WLYH, it is about 341 miles from the Harbor. For those stopping overnight at Beebe Bridge Park, here is the address: 23459 Highway 97, Orondo, WA 98843. It is about 34 miles north of Wenatchee, and about 214 miles from Washington Land Yacht Harbor. You will need to make your reservations online after 10am on Wednesday, March 1, 2023.
At Black Beach Resort on Curlew Lake, full hook-up lakeside sites 7-16 are reserved for our group. Very nice cabins are also available; reserve cabins now with credit card at 509-775-3989. We will have the big tent set up and there will be great fishing, bike-riding on the Ferry County Rail Trail, social hours, and plenty to do in the Republic area. The Canadian Border is close, so you could even plan an excursion into Canada! Party boats and fishing boats are available to rent if desired. There will be a big campfire every day/night. Sure sounds like fun to me!
Sunday, May 14th is Mother's Day, so we will likely have a no-host group brunch or lunch at the K Diamond K Guest Ranch. You can also ride horses, go ATVing, do some archery shooting, and lots more in addition to their great family style buffet meals in a beautiful lodge!
Monday, May 15th we depart for Potholes State Park, 6762 Highway 262 East, Othello WA 99344, near Moses Lake. Potholes (or O'Sullivan) Reservoir is known for walleye, bass, trout, crappie and catfish. There is a boat launch near the camping area. We will be close to Mardon Resort which has a great restaurant, boat rentals, etc. Golfing will be available at the Legacy Golf Course, and lots to do in Moses Lake.
We will be using water/electric camping sites 41 – 60, arriving Monday, May 15, departing Saturday, May 20 (dump station on site). Several have already reserved their sites. Since this is a State Park, we could not reserve sites for our group. Please reserve your site ASAP by calling 888-226-7688 or go online (preferred). As of Monday, January 16, 2023, only sites 26 and 32 away from our circles are still available.
Prizes awarded for men's and women's longest fish at EACH lake!
The cost for the full caravan is $360. This includes your RV site at Black Beach and firewood, prizes and final dinner at each lake. Black Beach only will be $310, Potholes only will be $50. As stated above, you need to make your own RV site reservations at Potholes. Let's make it a real caravan and attend both lakes! Deadline for sending in your caravan fees is Wednesday, March 15, 2023. Please see the coupon in this newsletter. Can't wait for spring!