Access to the Event Registration Lists (Registered Attendee List) for all Events is now only accessible to WBCCI Members through Log-In via the Membership Portal.
---
Cave Creek February 17th thru 20th 2022, "Cave Creek Regional Park Rally"
Rally is Filled; Use the Registration Form to Wait List
All campsites are Reserved under the name of the Club Past President (Rick Carmichael). Site assignments will be made and emailed to attendees approximately one week prior to the Rally. 
ANY CANCELLATIONS MUST BE MADE BY CONTACTING THE CLUB PRESIDENT OR THE TREASURER.
This will be a NO HOST rally with NO RALLY FEES.
Attendees may consider participating in impromptu happy hours and shared meals with other attendees at their discretion.
---
There are thirteen (13) Campsites Reserved and available for Registration and Payment.

It is possible the Wild at Heart Raptor Rescue Organization will be onsite for an educational presentation about the organization and introduction to their educational raptors.

Hike the lovely mountains just outside your campsite. Cave Creek Regional Park offers over 11-miles of trails for hiking, mountain biking and horseback riding. Park trails range in length from 0.2 miles to 5.8 miles and range in difficulty from easy to difficult. The trails within the Cave Creek Regional Park are very popular, with dramatic elevations and spectacular views of the surrounding plains.

There are numerous hiking trails in and around the park, convenient nearby horseback riding, and nearby shopping and dining opportunities. This years' AZ MusicFest jazz concert at nearby Highlands is Kenny G!
Campsite fees for three nights will be $108.00 (includes processing fees and Reservation fees). 
Cave Creek Camp Sites are mainly in the Festival Campground area featuring electric and water. Our overflow sites in the Family Campground area are similar but more spacious and paved, but slightly farther from the large pavilions, fire pit and group activities. We have reserved sites 3,4,14,40,42,43,45,47,49,50,51,52,55.
---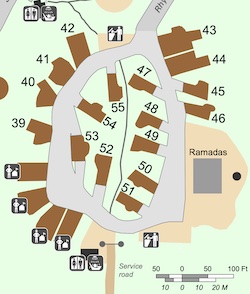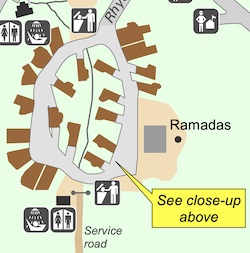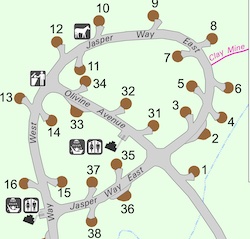 ---
CANCELLATION NOTICE: 
General Arizona Airstream Club Cancellation Policy
CANCELLATION AND REFUND POLICY: (AAC Policy – 3/17/2020, Pg. 2-3)
REGISTERED ATTENDEES; PRE-RALLY CANCELLATION: Members who cancel after being Registered will forfeit Non-Refundable Fees such as Reservation Fees, processing fees, non-refundable site cancellation fees, non-refundable pre-paid excursion, tour, entertainment and event fees. Every attempt will be made to return "Refundable" pre-paid expenses if and when the Club is able to recover those funds.
Site fees are subject to the cancellation policy of the Cave Creek Regional Park.
Our rallies require significant advance planning for camping venues, events/excursions, advance food purchases and preparation. Any cancellations within 30 days of the Rally start date will forfeit those pre-paid rally fees and depending on the venue, potentially RV site fees.
If the timeliness of cancellation of your attendance does not allow the Arizona Airstream Club to find replacement attendees or obtain refunds for any of the RV site fees and various tours/excursions, a refund cannot be made, and forfeiture of those costs will be incurred by the cancelling member.
WEATHER RELATED DELAYS OR CANCELLATION: If the Rally is cancelled due to weather conditions, or if members cannot attend or are delayed due to weather conditions, THERE WILL BE NO FULL OR PARTIAL REFUNDS OF THE RALLY FEE.
---