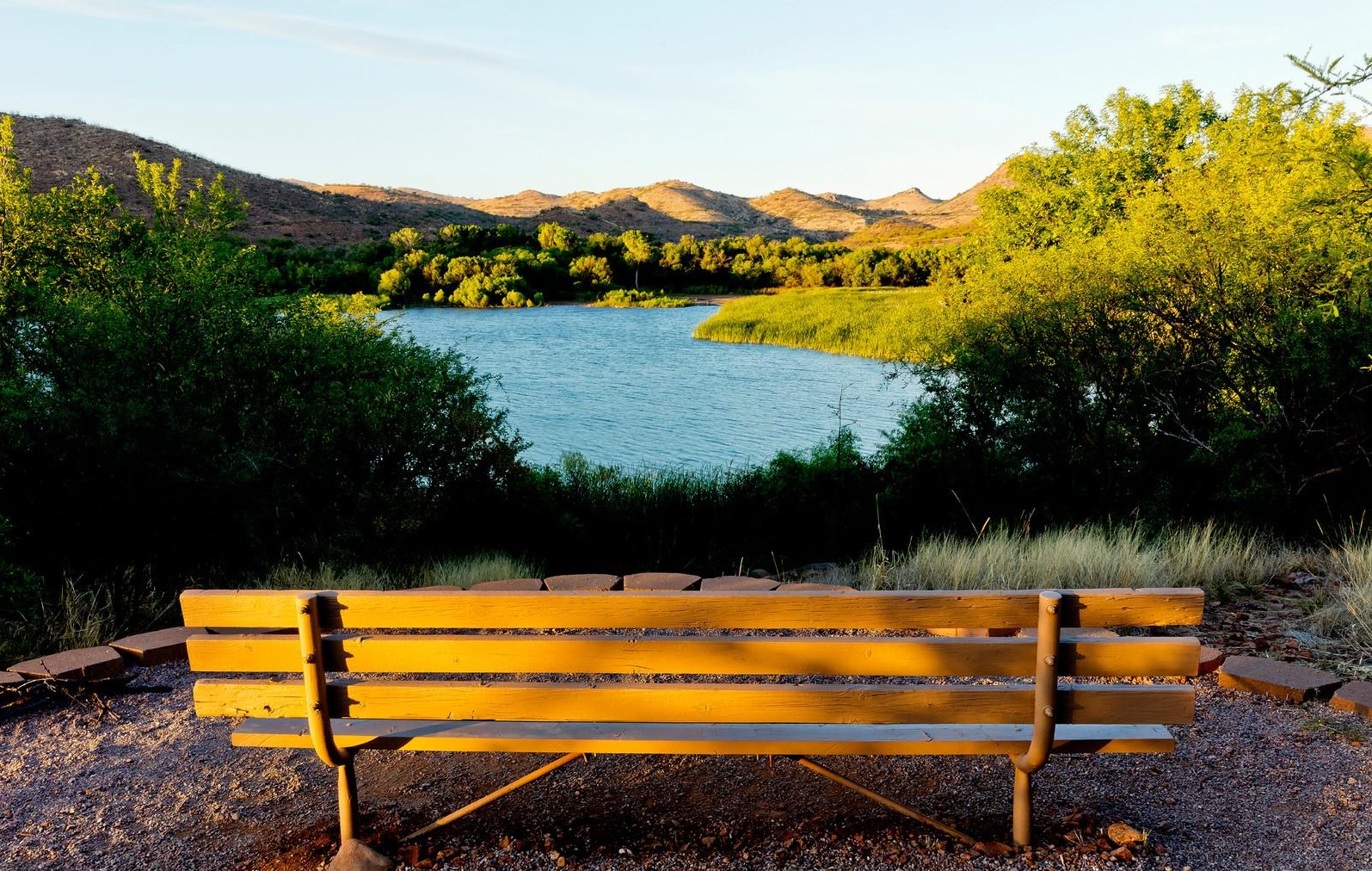 REGISTRATION OPEN
Access to the Event Registration Lists (Registered Attendee List) for all Events is now only accessible to WBCCI Members through Log-In via the Membership Portal.
If you are a Registered Attendee and need to cancel your Registration, contact the Arizona Airstream Club Treasurer (003treasurer@airstreamclub.net)
Patagonia, November 11th thru 14th, "Patagonia Lake State Park Rally"
Tucked away in the rolling hills of southeastern Arizona is a hidden treasure. Patagonia Lake State Park was established in 1975 as a state park and is an ideal place to find whitetail deer roaming the hills and great blue herons walking the shoreline. The park offers a campground, beach, picnic area with ramadas, tables and grills, a creek trail, boat ramps, and a marina.
40 miles north of the State Park is Patagonia, a defunct mining town that is surrounded by opportunities for hiking and wildlife viewing. It has restaurants and a selection of shops featuring uniquely crafted works of art and antiques. The Nature Conservancy has a riparian area that meanders through the Cottonwood lined Sonoita Creek south of town.
Sonoita Creek State Natural Area is also nearby with 20 miles of hiking trails. A 1.5-mile hike of moderate difficulty called the "Overlook Trail" close to our campground is a great way to see 360 degrees of spectacular scenery.
Our Patagonia Lake State Park campsites feature electric and water hook-ups.
Registration for camp sites at Patagonia Lake Rally will be $32.00 per night ($96.00 three-nights) (includes processing fees).
Mike and Gail McBurney (Host)
mikegail@tabletoptelephone.com
Sites reserved (22 available): 1,2,6,7,8,9(ADA),18,19,20,21,22,23,24,26,27,28,29,30,31,34,(host site-35 & 36),37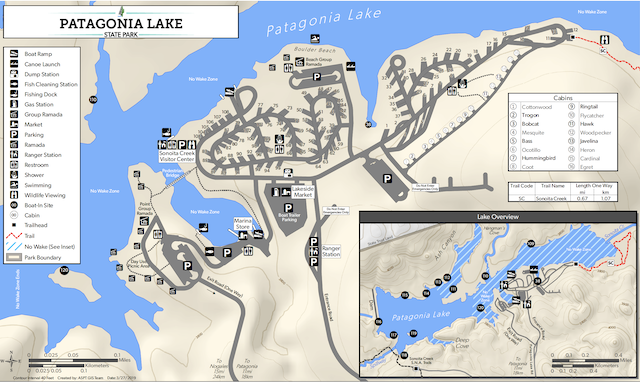 ---
Patagonia Lake Rally
November 11, (Thursday)
Veterans Day! Let's honor our Vets!
5:00 PM –      Welcome Cocktails (Happy Hour – BYOB)
6:00 PM –      Potluck Dinner - "Heidi's Events and Catering" to provide Hamburgers, Hot Dogs, Chicken Breast, and Beyond Burgers!
You bring --- > "snacks, appetizers/hors d'oeuvers" or "sides" or "desserts". (Use the Sign-up Form to choose)
November 12, (Friday)
Ranger Guided Bird Tour – (Check Schedule on Arrival)  Optional - (Scheduling and Payment are your responsibility)
Optional -     Wine Tour by Arizona Winery Tours
10:30 AM –   Pick up at the campground (They discounted their normal fee for our group by $30!)
$103.00 per person (includes processing fees) (For Anyone wanting to come for the fun and lunch but not taste wine, $52.00 (includes processing fees))
Price includes:
Roundtrip transportation with knowledgeable drivers 
Visits to 3 vineyards (Rune, Callaghan, Autumn Sage) 
Souvenir tasting glasses (for tasters)
5-6 tastings at each vineyard
Lunch
Snacks & water throughout the day
Vineyard Notes
Rune - The views are expansive. This is the vineyard whose owner has an Airstream on site and plans to have several for rental stays.
The Rune wines are super creative, experimenting with wild yeasts, fermenting, and sur lies aging.
Callaghan - Very nice patio. Large selection of wines to choose from. Had a wine several years ago that was served in the White House
Autumn Sage -The landscaping at Autumn Sage is amazing with their dock and pond. More traditional wines. 
Wine Tour Lunch Options (Included in Price of Tour) - from The Cafe in Sonoita (Great food) 
California Turkey Wrap:
Lettuce, tomato, avocado, onion, spicy mayo, and deli turkey
Fiery Cilantro-Lime Chicken Wrap (spicy):
Fried or grilled chicken strips tossed in our house-made fiery cilantro-lime sauce, romaine, and tomato
Southwest Vegan Wrap:
Black beans, avocado, lettuce, pico de gallo, bell pepper, onion, corn
Turkey Pesto Sandwich:
Deli turkey with cucumber, tomato, lettuce, onion, Swiss, house-made pesto on whole wheat
B.L.T. :
Bacon, lettuce, and tomato with mayo on a croissant
Choose a side:
Potato Salad
Cole Slaw
Carrot and Cucumber Sticks
Side Salad (ranch, bleu cheese, or house vinaigrette)
Evening –      Dinner on your own 
Might I suggest going into Patagonia:
The Gathering Grounds
Velvet Elvis Pizza
Wild Horse restaurant 
Wagon wheel Saloon
- or -
The Cafe in Sonoita
November 13, (Saturday)
ON YOUR OWN - Today you are free to explore on your own during the day
Suggestions:
There may be Ranger guided (bird watching?) pontoon boat tour. We will have to check schedule when we arrive. 
Sonoita Creek Trailhead for a 1.1-mile round trip walk and bird watching. Beautiful area to explore. 
Visit the Sonoita Creek Visitors Center Gift Shop in the campground. Sit and watch the birds on the Gift Shop deck outside. 
Rent a boat at the marina in the campground and go fishing or tour the lake. 
Rent a kayak, paddle boat or speedboat. 
Walk the trails around the lake and over the impressive footbridge. 
Take a chair or blanket to the beach area wrap in a blanket and watch the water. You will see a plethora of birds and wildlife. 
For Horseback riding, the closest stables seem to be at Ft Huachuca, (Buffalo Corral).  It's about an hour from the lake.  
If you have retiree ID cards, I think you can get through the west gate which is a very pretty drive but takes longer.  
The fort has some interesting history too for people who might be interested in that.  
Over toward Tubac and Tumacacori there is the Anza Trail between the two areas.  It's a bit of a hike and may be closed if it's rainy as it follows the river.   
There is also good shopping at Tubac. 
Farther north is the Titan Missile Museum which is pretty darned cool and the Mission San Xavier del Bac on the Tohono O'odam Nation.   
There are some ghost towns in the area, but I have not visited them because there are also some curmudgeons with guns who sometimes block access on the back roads. Avoid Duquesne.
The last thing I can think of is the Empire Ranch which is off 83 just north of Sonoita.  It's historic and a working ranch, but the ranch house is a museum now.  
The Vera Earl Ranch runs operations on most of the old ranches now.  It's a pretty interesting story of how they all collaborate to protect the land and such.
5:00 PM –     Good Ole Western Steak fry with live music! (Included in Rally Fee)
Bring your own beverages and chairs. 
Premium beef Steaks from the Vera Earl Ranch. Cattle are raised here in Sonoita, hand selected and taken to the University of Arizona for custom processing.  
It is dry aged as a carcass for 21 day and usually grades out as prime. They will be grilled on site over local mesquite by Chef Adam Puckle at "The Cafe" in Sonoita. 
Adam Puckle is a bona fide local.  He was born at Fort Huachuca, graduated from Patagonia High School, and attended NAU and Pima College.
He started A.P.E. Dining to do dinner events in 2009 and added The Cafe and Catering operations in 2010. Chef Adam's natural sense for food provides guests with approachable, comfortable, and appetizing offerings designed to provide a tasty and price-valued dining experience.
The menu:
 8 oz Vera Earl Premium sirloin steak
 house made mac cheese (or smashed or maybe baked potatoes?)
corn bread
green salad (mixed greens, cherry tomatoes, cucumbers, red onion) Choice of house        balsamic, blue, ranch dressings.  
Optional – Salmon Dinner or Portobello Mushroom Dinner 
Nothing says party like live music! I found some Great local musicians. 
The Grasslands Band - plays a mixture of Western Swing, Bluegrass, Traditional Country, and some old cowboy songs.
Rana Tucker - Guitar and vocals. - Rana grew up in a musical family on the Nebraska – South Dakota border. Her first professional musical experience came at age 8 when she joined her father on the stage of the Nebraska State Fair. She has been singing and playing ever since.
Clay Koweek - Guitar and Vocals. - Clay is a top shelf guitar player who has toured both nationally and internationally.   He currently serves as lead guitarist and has recorded with several of Tucson's top bands.
Jim Koweek - Mandolin and vocals. - Jim has been playing professionally since the early 80's when his band, The Desert Riders, played ranch parties and dances in SE Arizona. Among his musical highlights, Jim was chosen to play music for the touring Smithsonian historical exhibit in Southeast Arizona. In addition to being a musician, Jim is the author of an easy-to-use field guide for grassland plant ID called Grassland Plant Identification For Everyone – Except Folks That Take Boring Technical Stuff Too Seriously. He is happy to answer anyone questions about plants or the grasslands in general.
November 14, (Sunday)
8:00 AM –      Join us for biscuits and gravy, fresh fruit, pastries, muffins, coffee and juice. (Included in Rally Fee)
Give officers your suggestions, criticisms, and ideas for 2021 and 2022.
Say your goodbyes and head for home!
---