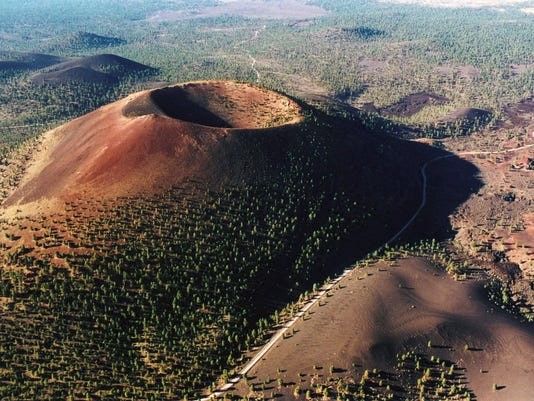 If you are a Registered Attendee and need to cancel your Registration, contact the Arizona Airstream Club Treasurer (003treasurer@airstreamclub.net)
Preliminary Summary (Rally Details and Schedule TBD)
Pre-Payment of the Registration Fee (campsite reservation) is required with Early-Registration; the three-night total is: ($67.00) (includes processing fees and non-refundable reservation fee).
In light of the current situation (Covid-19 Pandemic), we are "cautiously optimistic" that time and circumstance will allow this rally to be held. Of course, we will adapt to the reality of the situation as the date of the rally approaches.
Arizona Airstream Club has advance reservations for eighteen (18) O'Leary Group Campground campsites.
---
Flagstaff Sept 16th thru 19th, 2021
"Sunset Crater National Monument Cordless Rally"
Sunset Crater National Monument preserves the largest vent of an eruption that occurred in 1085. Sunset Crater is the youngest volcano on the Colorado Plateau. The volcano's red rim and the dark lava flows seem to have cooled and hardened to a jagged surface only yesterday. As plants return, so do the animals that use them for food and shelter..
O'Leary Group Campgound:
The O'Leary group facilities offers many amenities for hosting large group gatherings, such as trash collection and drinking water. Our campsites are dry and shaded; bring your generators.
O'Leary Group Campground is named after O'Leary Peak and was constructed in 2001. This group campground offers large groups the opportunity to camp and explore the nearby national monuments.
This area of volcanic activity is so unique that much of it has been set aside as the Sunset Crater National Monument. Wupatki National Monument is nearby and is a four-story masterpiece of Native American stone masonry. Construction of that stone-age condominium began around A.D. 1120. At one time it contained as many as 100 rooms and housed as many as 125 people. Both Sunset Crater and Wupatki National Monuments have visitor centers and feature self-guided and interpreter guided tours.
Elevation: 6,900 feet
Attractions: Camping, Volcanic lava flows, Indian ruins, Hiking, Wildlife viewing, Fall colors
Facilities: Large group unit camping areas (with strict limit on RV Site parking), paved roads and spurs, Naturalist programs, drinking water, barrier free (vault type) toilets, group Bar'Q grills, fire pits, ramada with picnic tables.
Leave No Trace: Recognize your role in preserving wild lands by practicing these LNT principles: - 1) Plan ahead and prepare, 2) Travel and camp on durable surfaces, 3) Dispose of waste properly, 4) Leave what you find, 5) Minimize campfire impacts, 6) Respect wildlife, 7) Be considerate of other visitors.
Location: Drive 12 miles northeast of Flagstaff on US Route 89. Turn east (right) on Forest Road 545 to Sunset Crater National Monument. Drive 2 miles to the campground. (O'Leary Group Campground GPS coordinates are: N35.372972, W111.541473)
Notes:
* No utility hookups

* New: Water for filling RV tanks now available for $5.00

* Pets must always be restrained or on a leash
---