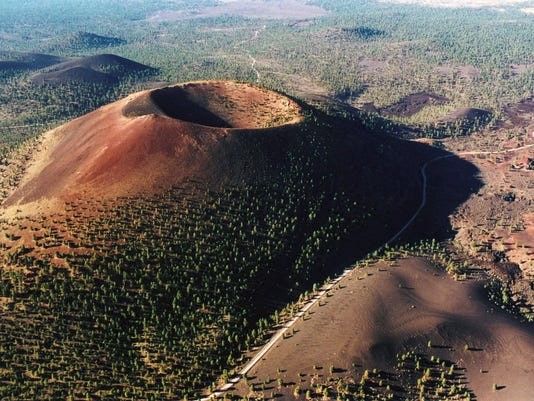 Access to the Event Registration Lists (Registered Attendee List) for all Events is now only accessible to WBCCI Members through Log-In via the Membership Portal.
Coconino National Forest has reopened all O'Leary Group Campgrounds.
The Sunset Crater Rally is being reestablished and the Registration Form has been rebuilt.
We are starting over from scratch with Registrations.
PRIOR RALLY CAMPSITE REGISTRATIONS, CHARGES AND FEES WERE REFUNDED. ALL PRIOR REGISTERED ATTENDEES WILL NEED TO RESERVE THE RALLY AGAIN ON THE NEW SEPT 9th DATE IF YOU WISH TO ATTEND.
---
Flagstaff Sept 9th thru 12th, "Sunset Crater National Monument Cordless Rally"
Sunset Crater National Monument preserves the largest vent of an eruption that occurred in 1085. Sunset Crater is the youngest volcano on the Colorado Plateau. The volcano's red rim and the dark lava flows seem to have cooled and hardened to a jagged surface only yesterday. As plants return, so do the animals that use them for food and shelter.

Nearby Wupatki National Monument features an ancient four-story pueblo, a masterpiece of Ancient Puebloan stone masonry. Construction of that prehistoric condominium began around A.D. 1120, and at one time it contained as many as 100 rooms housing as many as 125 people.

Sunset Crater and Wupatki National Monuments have visitor centers and feature self-guided, and interpreter-guided tours.

Another popular activity is to hike up O'Leary Peak Trail to the O'Leary Lookout Tower where the Forest Service spots wildfires.

The O'Leary group facilities offers many amenities for hosting large group gatherings, such as electricity, trash collection and drinking water. Our campsites are dry and shaded; bring your generators.
---
Register Online with Arizona Airstream Club
Rally Fee is $9.00 (processing fees included) per adult, includes one dinner and one breakfast.
Campsite Fee is $80.00 for three (3) nights (processing fees included). There are 16 sites available for Registration.
Park and setup your campsite:
Parking assistants needed, will need to arrive early. (Contact Host)
Rally-loop-style parking requires Members to wait patiently until you are directed by Host/Parking Assistant to proceed to one of the three loops in a clockwise or counter-clockwise manner.
Our setup will support easy tow vehicle ingress-egress during the rally and allow unassisted early camper departures. We limited the number of participants to reduce trailer congestion.
Check in time is 2:00 PM. If you arrive after 4pm, do not self-park, locate host. Hosts will try to be on the lookout for late arrivals.
Important:
After exiting AZ89 onto Forest Service Road 395 loop, turn left on Forest Service Road 545A. We plan to have a sign to indicate the turn. (If you reach Bonito Campground or National Park entrance you've gone too far)
---
Need to Know:
No all-terrain or off-highway vehicles allowed in the campground
No amplified music or public address systems allowed
Check-in time is 2 p.m.; check-out time is 11 a.m.
Horses are not allowed at the campground
No RV hook-ups will be permitted; electricity is for small appliance use only.
Don't Move Firewood: Prevent the spread of tree-killing pests by obtaining firewood near your destination and burning it on-site.
NOTE: Cell service is limited or non-existent in campground. There is some service once inside the National Park.
---