Fun! Exploring! Adventure!
Our Rallies
2020 Alumalina, Marion, NC
Enjoy these photos from the Alumalina Rally in Marion, NC. Nine (9) rigs from our club attended. There were lots more activities than what is included here. Too much to do!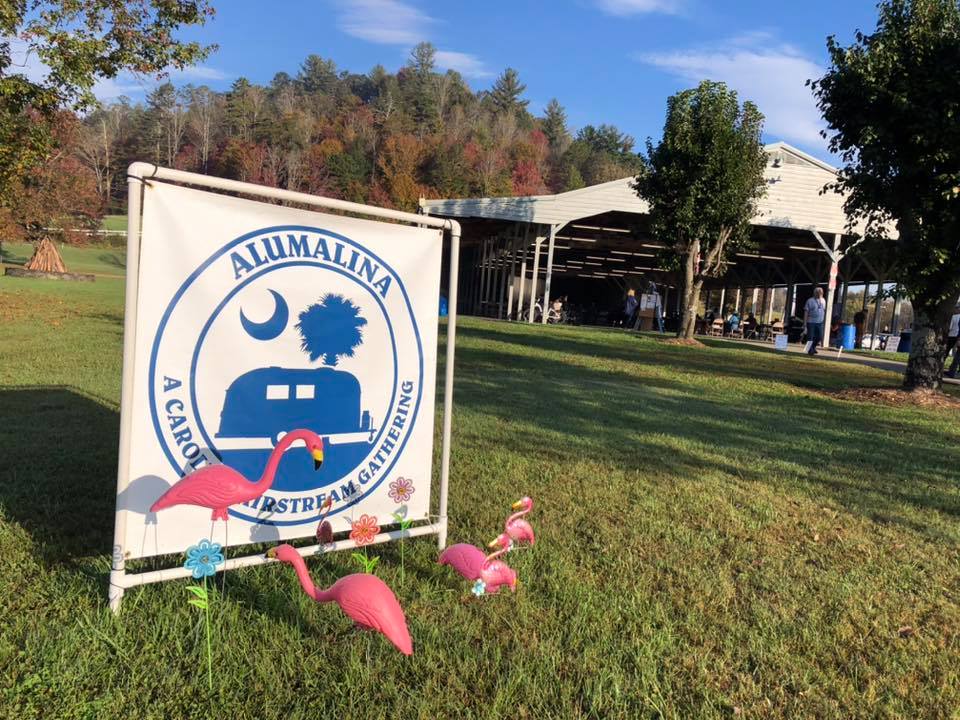 https://www.facebook.com/EastTennesseeAirstreamClub/posts/1558722207650905
Music by two of our local club members Terry Brennan and Mooch Cofer
https://www.facebook.com/watch/?v=479823766309111
https://www.facebook.com/watch/?v=392405325279708
2020 Rivets at the Ridge Sevierville, TN September Election Rally
2019 Boondocking-on-the-Lake Rally Slideshow
Seven rigs attended our June Boondocking-on-the-Lake Rally at Little Oak Campground on Holston Lake in Cherokee National Park. Yes, it rained but not all the time and you can see that it didn't keep us from doing a lot of fun things.
A big thank you to Gary Dawn for providing the firewood and awnings to make it possible for us to congregate. AND another big thank you to Paul Singley and Trisha Daugherty for the fantastic Lumberjack breakfast and homemade peach ice cream, later that evening.
2019 Moonbow Business Rally
Twelve rigs attended our May Moonbow Business Rally near Cumberland Falls State Park just over the line in KY. We had a lot of fun in a few short days, including getting our Constitution and ByLaws approved for another five years.
Angi's father and mother treated the club to a fish fry — using fish they had caught from the ocean. They have an Airstream of their own in the Keys and are down there frequently. Let's give a big thank-you to our hosts Angi and Jeff Carr for another great rally!
2018 Alumalina Rally
228 Rigs attended the 2018 Alumalina Rally in Marion, NC. Seven rigs from ETN Airstream Club were there — with several of us meeting for the first time! Watch the video to see what you missed and meet some of our club members.
Thanks also to Teresa Herrmann, Angi and Jeff Carr, and Bill Kelly for sharing some of their photos, mixed in with Mary Johnson's.
2018 Airstream Region 6 Rally in Lebanon TN
Our very own members, Ken Ritenour (who is the Region 6 President) and his wife Jean, pulled off a wonderful Region 6 Rally — 54 rigs from six states within our Region 6 attended this year's rally in Lebanon, TN, near Nashville. Watch the slideshow to see what goes on at a region rally. We all got a chance to meet our new International President Barry Bell!
2018 Fish Fry Election Rally
Watch the video all the way to the end to meet your new club officers. And join me in thanking our hosts: Gary and Kathy Dawn (who caught and prepared the fish) and Marlene and Harold Hughes who made the homemade peach ice cream!
2018 Moonbow Rally
Wow! Barely members of our club for a year, Angi and Jeff Carr planned their first Airstream rally ever and they hit it out of the park. Thank you Angi and Jeff for hosting this fun time. The rally included a train ride to Blue Heron, a historic mining town preserved through "ghost structures" and audio stories told by the actual residents themselves. Also, instruction on how to take successful "moonbow" photos at night, a trip and VIP guided tour of Cumberland Falls State Park where rare moonbows actually occur, a fiber arts project, pets, kids, a waterpark, and much more. Enjoy the slideshow created by Angi Carr.
2018 Tunnel to Adventure Rally
19 ETN Airstream Club adventurers attended our June Tunnel to Adventure Rally held at Natural Tunnel State Park in Duffield VA. We invite you to sit back and enjoy this wonderful slideshow put together by our own Angi Carr, who admits it is a bit long but she had a hard time trimming the fun. This is also on our Private Facebook Group.
2018 Show-Biz Club Rally
What a great time at our 2018 Show-Biz Club Rally! A picture says a thousand words. Watch this beautiful slideshow put together by one of our new members, Angi Carr. You can find the individual pictures here:
https://www.facebook.com/pg/Atom-Ray-Photography-266255080108048/photos/?tab=album&album_id=1782604975139710
2017 Cumberland Mountain Skywalk Adventure Rally
7 Rigs and 15 Airstream adventurers attended our 2017 November Cumberland Mountain Skywalk Adventure Rally. Enjoy this slideshow.
Check Out Our Upcoming Events