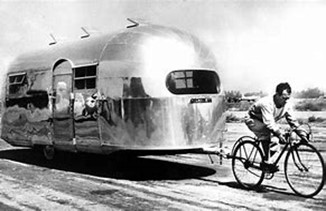 July 11th - 16th, 2021 -Caravan to International leaving from  Martin Creek Lake.  
Sunday July 11- (234 miles - 3 hours 26 minutes, mostly on I-20) to Vicksburg, MS. -  Ameristar Casino Hotel RV Park (only book 2-3 months in advance - (601) 638-1000)
Monday, July 12th (232 miles - 3 hours 38 minutes to Tupelo, MS Campgrounds at Barnes Crossing http://www.cgbarnescrossing.com/pages/reservations_online.shtml  
Tuesday July 13th  (144 miles - 2 hours 30 minutes to Huntsville, Alabama  U.S. Space and Rocket Center RV campground.  https://rocketcenter.com/RVPark
THOSE WHO WISH WILL THEN GO ON TO THE VAC RENDEZVOUS
July 14th-16th- (134 miles - 2 hours 20 minutes) to Vintage Airstream Club 2021 Rendezvous Rally, Cedars of Lebanon State Park.  
All participants must make their own reservations. Please pick Area 2 as your first option to keep most of our group together.  An itinerary of activities during the rendezvous, which will include a catered dinner, swap meet, entertainment, open house, parade, etc. will be sent out later.   A rally fee will be collected at a later date. The Tennessee State Parks website is easy to use and very informative. You can also call them to reserve your spot (a real human actually answers). Please don't delay making your reservation even though this rally is still 5 months away. Camping and RVing have become extremely popular these days, and campgrounds fill up fast. TN State Parks will issue a full refund if you cancel within 48 hours of your arrival.
 
Further info: Cedars of Lebanon State Park Tntstateparks.com 328 Cedar Forest Road Lebanon, TX 37090.
Phone 615-453-2769 (note: to attend this rally you must be a member or associate member of VAC.  Annual dues are $20. To be a member you must have an Airstream or Argosy 25 years old or older.  Associate membership is open to those with newer trailers.)
THOSE WHO WISH WILL THEN GO ON TO INTERNATIONAL

July 17th - 24th, 2021 (30 - 40 minutes, unpaved roads to) 64th International Rally, Lebanon, TN  https://airstreamclub.org/lebanon