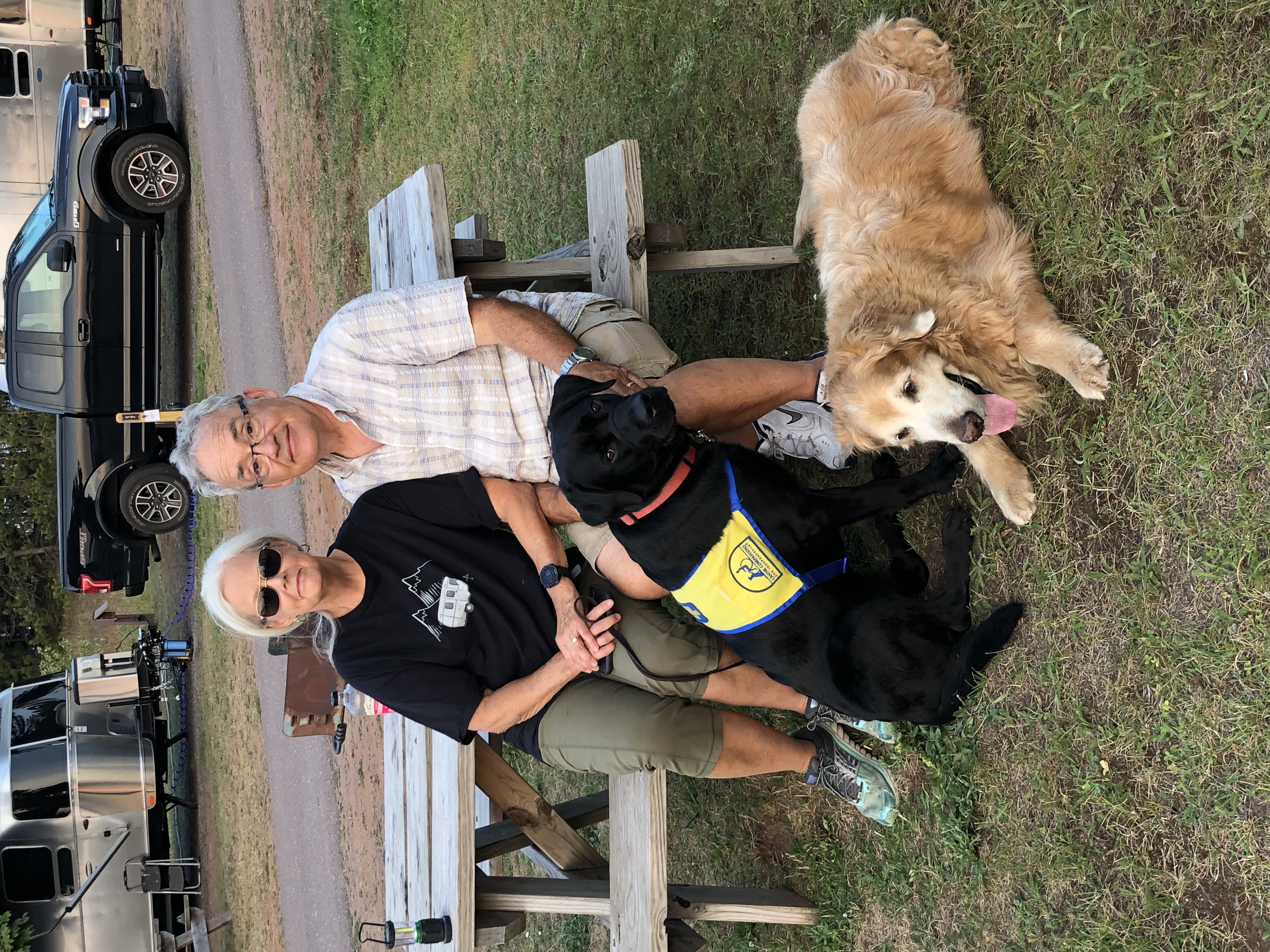 MARQUETTE, MI – When it comes to caravanning and rally planning, the wealth of travel experience and know-how that our club's more seasoned members can provide is invaluable. Take for instance, Jane Carmichael (BRN 219) of the Airstream Club International's (ACI's) Wisc-UP Airstream Club and Region 7 President.
Jane has been on six caravans: Ores, Shores, Water & Lights – East in 2016, Nor' By Nor'East in 2017, National Landmarks West in 2018, Springtime in Kentucky in 2019, Cajun Country Caravan in 2020 and Show Me the Ozarks in 2021. On top of all those miles caravanning through the country, Jane has also taken the lead on planning eight different rallies. She and her partner, Ed Klein, travel in their third Airstream, a 28' Flying Cloud.
Most recently, Jane volunteered as the rally host for the 45th Region 7 Rally at the Rippling River Resort Campground in Marquette, Michigan. The rally drew 58 Airstream campers, and even some members from outside the region, from states as far-reaching Arizona, Alabama and Florida. Also travelling from outside the region were ACI Third Vice President, Karen Fisher (Region 4), and ACI President, Tye Mott (Region 1).  
Jane said when she is planning a rally, she looks to include entertainment like tours, seminars and historical speakers about the area. She also makes sure there's a lot of great food and campfire time.
By keeping a close watch on our events calendar, the Airstream owner or prospective Airstreamer can scope out upcoming local and region rallies. Since each rally is being planned by a different host and team of volunteers, each has its own flavor and different appeal. The club's year-round rallies avail the Airstreamer opportunities to use their Airstreams all seasons if their travel itineraries so allow it: it's always camping season somewhere in the network of Airstream Club International!
Jane said that a bonus to being a rally host is that you can plan something in your own back yard. Jane actually lives in Marquette, Michigan where she planned the Region 7 Rally. "I chose a favorite location," said Jane, "right along the Carp River. People could fish, and it's very scenic. They could hike to waterfalls, and there's a great system for off-road biking."
The Airstream Club abides by a creed that promises to promote goodwill in the communities in which they live and travel and thus, events almost always include some community service efforts. At the Region 7 Rally,  a combined $1000 was raised through a silent auction to benefit two local groups: the Upper Peninsula Animal Welfare Shelter and the Marquette Beautification Committee. 
"It's about making a happy time for everyone!" said Jane. If you, like Jane, can imagine yourself the creator of happy times through planning events and coordinating with other volunteers—and as a bonus—you know of a location that other Airstream Club members would enjoy, consider volunteering as a rally host!
Peter and Sue LeRoy (BRN 8875) of Minnesota were first-time attendees to the Region 7 Rally. They were travelling in their 30' Classic with a Canine Companions service dog in training, Mark. Mark won the top prize in the rally pet show.
"We had been members for a while, but just hadn't gone out," said Sue.
"Whatever your age or ability was, it didn't seem to matter," Sue said of the variety of people she met at the rally. "It was just that we were having fun together." Of the many Airstream Club members she met, two most impactful connections stand out. First, Sue made a meaningful connection with another Airstreamer interested in learning more about service dogs. Secondly, since attending, the LeRoys have purchased a vintage Airstream from some members they met at the rally!
"It gets in your blood and you want to do more," said Sue. "We got home and signed up for International Rally and are going to a local club event next month."
For a current listing of Airstream Club International rallies and caravans, visit www.airstreamclub.org/events.
For more information on volunteering as a rally host, email comments@airstreamclub.org.
To learn more about ACI's Region 7 Rally visit their website here: https://airstreamclub.org/region7.
###
Airstream Club Event - Rippling River Resort from La Dolce Video & Design on Vimeo.