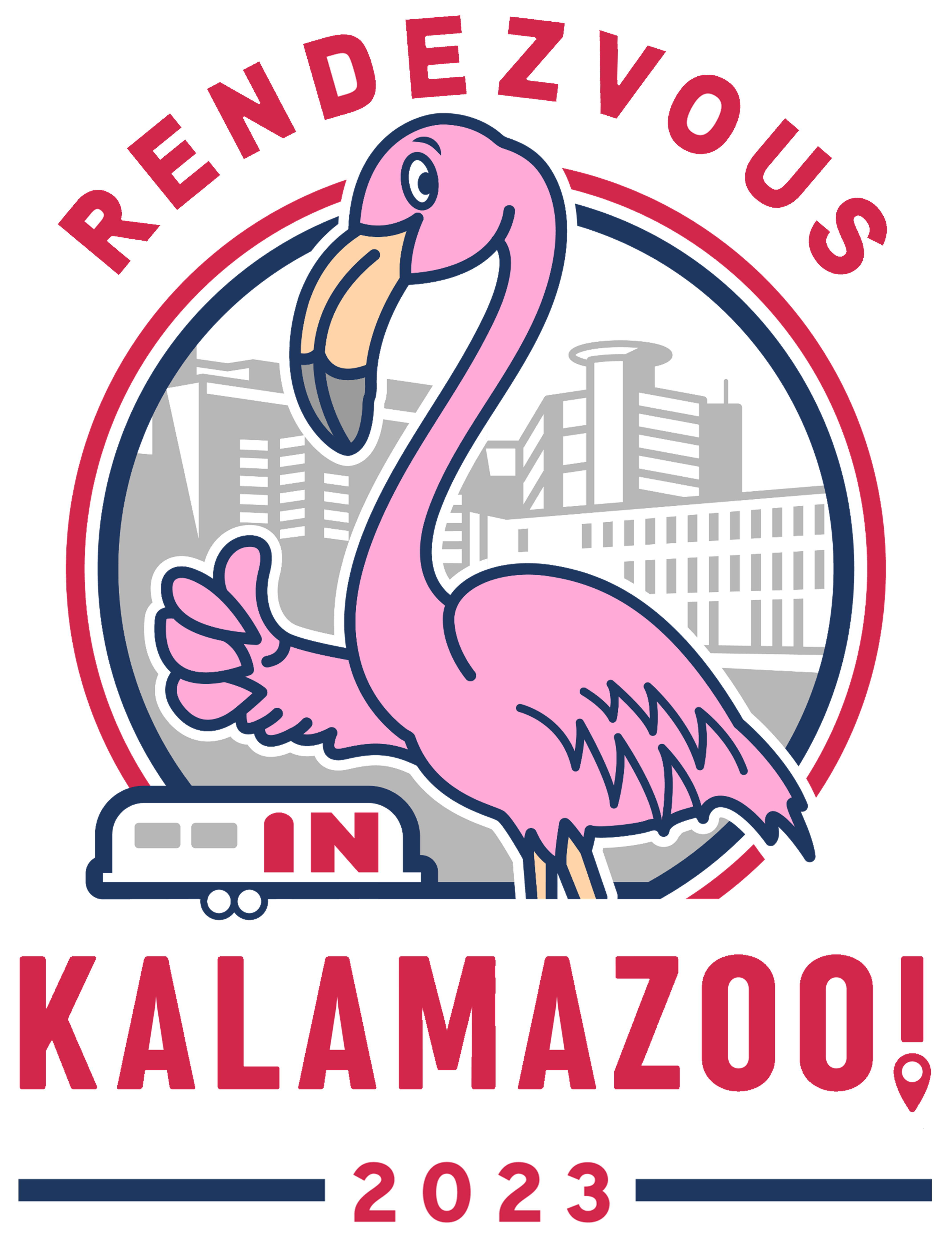 —Rendezvous in Kalamazoo—
47th Annual Airstream Club International Region 4 Rally
RENDEZVOUS IN KALAMAZOO, Michigan, with Region 4 members, May 16-21, 2023, for our annual region rally! We are adding a day to the rally this year, driving in on Tuesday at the Kalamazoo County Expo Center.
Wednesday, we are very excited to kick off our rally with performances by the Mall City Harmonizers, along with a catered meal. As always, we are supporting a local charity. This year, we are pleased to announce that proceeds from our local club basket raffle will support the Animal Rescue Project. This organization is a rescue shelter that is open to the public for dog and cat adoptions. Throughout the rally, there will be opportunities for tours to area businesses and museums such as the AirZoo.
The location of Kalamazoo is perfect as a base for exploring the Southwestern Michigan area, including the shoreline of Lake Michigan. Breweries and wineries are available for tastings. The Kalamazoo River Valley Trail is just minutes from the Expo Center, so we encourage all to bring their bikes. Other outdoor activities include hiking, canoeing, and kayaking—all in the local area. The Expo Center will serve as our location for several seminars and craft sessions throughout our time at the rally. We will have our annual Flea Market on Saturday morning, so please bring the items you wish to sell or trade.
Saturday night is the highlight of the week and starts with hors d'oeuvres and a catered meal. Because of the changes made at the international level, we are installing our Region 4 officers this evening.
Please attend and help make this a memorable evening for those taking on Region 4 leadership roles. Following the meal and activities, we have booked a local band that performs the 60s through 80s hits for your listening and dancing pleasure! The 2023 Region 4 Rally Registration includes 6 days/5 nights with electric, water, and one pump-out, two catered meals, two nights of entertainment, and fun for all!
We look forward to "Rendezvousing in Kalamazoo with YOU!"
47th Region 4 Rally Registration