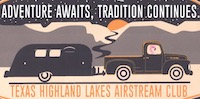 Hey, Look us Over!
Texas Highland Lakes Airstream Club
The Texas Highland Lakes Airstream Club represents over one hundred Airstream owners. Our members share a common bond:  We love traveling in our Airstreams and sharing our adventures with friends. Many of our folks are from Austin and its surrounding areas. However, we have members from all over central and southeast Texas.
Club rallies are held monthly from September through May, usually beginning on Thursday afternoon, and ending Sunday morning.  Typical activities include enjoying outdoor exploration, visiting local attractions, and sharing our travel and Airstream tips. We also sponsor one or more caravans each year.
THLAC welcomes members and guests to our monthly luncheons held in local Austin restaurants. This is a great time for new and prospective members to be introduced to our club.
Explore our website to learn more about us. View our Facebook page below.

Link to THLAC Website
Contact Us
Peter Sajovich, Membership Chair
Austin, TX 78702
Contact