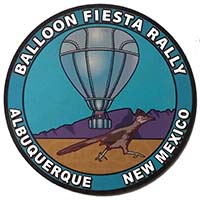 The World's Largest Balloon Event launches over your Airstream
Albuquerque Balloon Fiesta National Rally
Registration for 2022 is now open! And will end January 22 at midnight.
Go to the 2022 Lottery Registration page for the link.

We are pleased to announce the 50th Albuquerque International Balloon Fiesta National Rally, our site, just steps from the field, is a dry camping experience. Water and honey trucks are available. Bring your (quiet) generator. Join Airstreamers from across the country at this colorful event as hundreds of balloons take to the sky ! At this rally you are not sitting on the sidelines but rather you are part of the festivities beginning with the early morning Dawn Patrol through the evening Glow and fireworks!

- You have in/out access in your car after arriving
- Vendors are on the field serving tasty treats and coffee
- Two tickets to the field provided per Airstream additional tickets may be purchased at the event.

This always popular event fills quickly !!

The cost for this years rally is $435.00 and includes our famous Mexican Welcome Dinner on Friday evening – all registration this year is on line and payment is via PayPal – you do not need a PayPal account to pay.

Rally registration will open January 16th and will remain open for seven days ending 1/22 at midnight. – after that time we will pick registrations by lottery. If you are selected, we will notify you by email. Anyone who does not make our initial registration will be put on a waiting list in the order picked by the lottery. When we get cancellations, we will notify those on the waiting list and you will have limited time to confirm your attendance – for those whom we are not able to get a spot for in this year's rally, we will carry your registration over to next years event.

We will post the registration link on the 16th on this website as well as on our Facebook page.

This is important – there is no need to be the first to register – those who register first will be in the same lottery as those who register on the last day. No need to rush to your computer to register, you have seven days to do so. We will close registration on January 22, 2022.

Our refund policy is strict – with no exceptions:

Balloon Fiesta refund policy: $30 charge through July 14; $217.50 July 15 – August 31. No refunds after September 1st for any reason.





For current Information visit our facebook page
Contact Us
Ken Johansen
5000 Balloon Fiesta Parkway Albuquerque NM