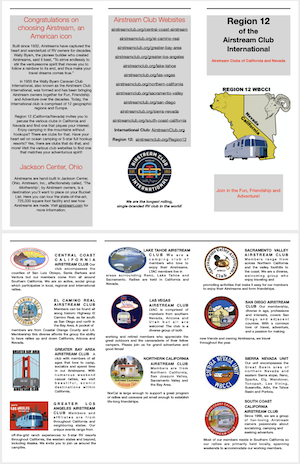 Downloadable Region 12 Overview TriFold
------------------------------------------------------------------------
Our club encompasses the counties of San Luis Obispo, Santa Barbara and Ventura but our members come from all around Southern California. We are an active, social group which participates in local, regional and international rallies.
Members can be found all along historic Highway El Camino Real, as far south as San Diego and north in the Bay Area. A pocket of members are from Coastal Orange County and LA. Membership this diverse affords the group the ability to have rallies up and down California, Arizona and Nevada.
Greater Bay Area Airstream Club
A club with members of all ages that love to camp, socialize and spend time in our Airstreams. With  numerous weekend casual rallies, we visit beautiful, scenic destinations within California.
Greater Los Angeles Airstream Club
Members and  affiliates are from throughout California and
neighboring states. Our unique events range from off-the-grid ranch experiences  to 5-star RV resorts throughout California, the western states and beyond, including Alaska. We invite you to join us around the campfire.
We are a camping club of members who love to enjoy their Airstreams.  LTAC members live in areas surrounding Reno, Lake Tahoe, the Carson Valley and Sacramento.  Rallies are held in California and Nevada.
LVAC is comprised of members from southern Nevada, Arizona and Utah, but all are welcome.  The club is a diverse group of both working and retired members who appreciate the great outdoors and the camaraderie of their fellow campers. Please join us for grand adventures and good times!
Northern California Airstream Club
Members are f rom Northern California, San Joaquin Valley, Sacramento Valley and the Bay Area.  NorCal is large enough to support a great program of rallies and caravans yet small enough to establish life-long friendships
Sacramento Valley Airstream Club
Members range from across Northern California and the valley foothills to the coast. We are a diverse, welcoming group who enjoy traveling and promoting activities that make it easy for our members to enjoy their Airstreams and form friendships.
San Diego California Airstream Club
Our membership, diverse in age, professions and interests, covers San Diego and adjacent counties. With a common love of travel, adventure, and a passion for making new friends and owning Airstreams, we travel throughout the year..
Our unit encompasses the Great Basin area of northern Nevada and eastern Sierra slope; Reno, Sparks, Ely, Wendover, Tonopah, Lee Vining, Susanville Admin, the Tahoe basin and Portola.
South Coast California Airstream Club
Since 1968, we are a group of fun-loving Airstream owners passionate about socializing, camping and seeking adventure.  Most of our members reside in Southern California so our rallies are primarily held locally, spanning
weekends to accommodate our working members.
Region 12 Overview TriFold
Region 12 Overview
View the downloadable Region 12 Overview TriFold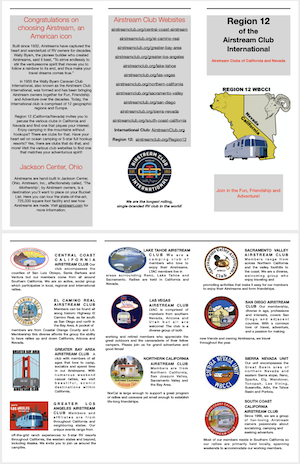 View Region 12 Trifold Document