Quilters and fabric enthusiasts may want to check these out on route to or from the Rally:
Hamilton, MO

aka Quilt Town, USA, home of Missouri Star Quilt Company. Hamilton is on US 36 about 50 miles east of St. Joseph, MO. Visit https://www.missouriquiltco.com/ or Facebook-Quilt Town USA.
All-Missouri Shop Hop 2024

will take place September 1 through October 31, 2024.  Their website is 

https://allmissourishophop.com/
What you need to know now: The Magazine for the 2024 All Missouri Shop Hop will be available for purchase in participating shops in July 2024. (The cost of the 2023 magazine was $11.50.) Some shops may take orders for the magazine online or by phone and mail them to you. Magazines tend to sell out quickly. The magazine will contain a PASSPORT needed to register for prizes. It also gives lists and maps showing participating shops by region within the state.
Full details are on the website, but much of the information pertains to the 2023 Shop Hop which ended October 31 of this year. Visit the website now to get a feel for the event, check out the FAQ's and sign up for email updates. On the Home page, you may also find a Shop Hop in your area of the country, under the heading "Shop Hop expands to 12 events for 2024".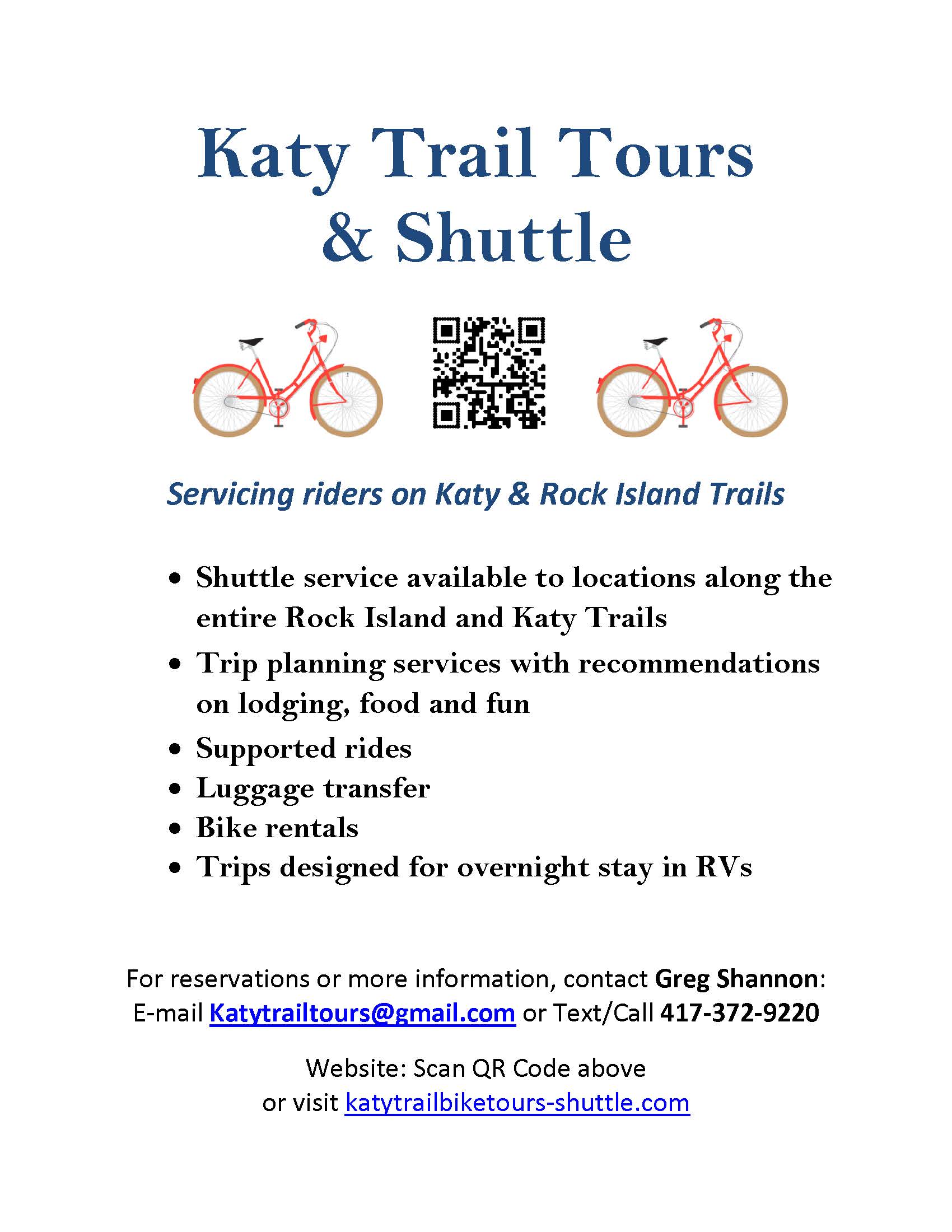 Book a self-directed (shuttle only) bicycle ride on the Katy Trail or choose to ride with services such as bag/luggage transport and ride support. Bike rentals available. Tours fill up fast so book now!
For reservations or more information, email Greg Shannon at Katytrailtours@gmail.com or text/call 417-372-9220.

Visit katytrailbiketours-shuttle.com for more information.
Katy Trail Bike Tours >>