Sunday-Wednesday, June 25-28, 9:00-11:00 a.m. Donuts and a "We Rally" Photo Op with Explore Rock Springs & Green River
Gather your friends, your fellow club members, your family or just come solo - to get your picture taken in front of the "We Rally" cargo trailer backdrop. The friendly folks from Explore Rock Springs & Green River will be on site to welcome you with highlights on where to go and what to see in the area. And because the local support is beyond amazing, they'll also be providing complimentary donuts (while supplies last)!!
_________
Grapes & Grains Intra-Club Mega-Tasting Event: June 27, 4:00-6:00 p.m.

Each registration & payment of $25 covers up to two attendees per Big Red Number (BRN).

To register, click here. Our Grapes & Grains Intra-Club will provide a commemorative dated rally tasting glass and appetizers for each registered attendee. A portion of every registration will also include a donation to the United Way of Southwest Wyoming. 

Each registered BRN is expected to provide at least ONE UNOPENED, commercially produced item in the following categories:

• four/six pack of craft beer
• 1 bottle of wine
• 1 bottle of spirits (e.g. bourbon, rye, gin, etc.)

Each provided item will have a ticket attached to it and if the item is emptied during the event, then the ticket will be placed in a drawing for remaining unclaimed items in that category at 5:30 p.m. Grapes & Grains Intra-Club encourages you to bring something unique (maybe something from your local brewery, winery, or distillery).
Grapes & Grains Intra-Club will provide metered pourers for all of the spirits tastings. We will have volunteers stationed at tasting tables to monitor the servings.
DISCLAIMER: ALCOHOL CONSUMPTION HAS INHERENT RISKS. ALCOHOL CONSUMPTION IS VOLUNTARY AT ALL PARTS OF THIS RALLY. THE HOSTS, GRAPES & GRAINS, AND ACI ARE NOT RESPONSIBLE FOR THE CONSEQUENCES OF YOUR CHOICES AND ACTIONS. YOU ARE RESPONSIBLE FOR YOURSELF. ATTENDANCE AT GROUP EVENTS, AT THE CAMPSITE OR OTHERWISE, IS NOT MANDATORY TO ATTEND THE RALLY. HAVE A PLAN TO GET BACK SAFELY TO YOUR AIRSTREAM.
__________
Not only are we THE longest-rolling single-branded RV Club in the world, we are the ONLY RV Club with its own band!! The Airstream Club International Concert Band and Chorus will be performing on Wednesday evening at 7 p.m. For more information on how to participate, click here! Don't miss this performance at Bunning Park after enjoying the afternoon in Downtown Rock Springs!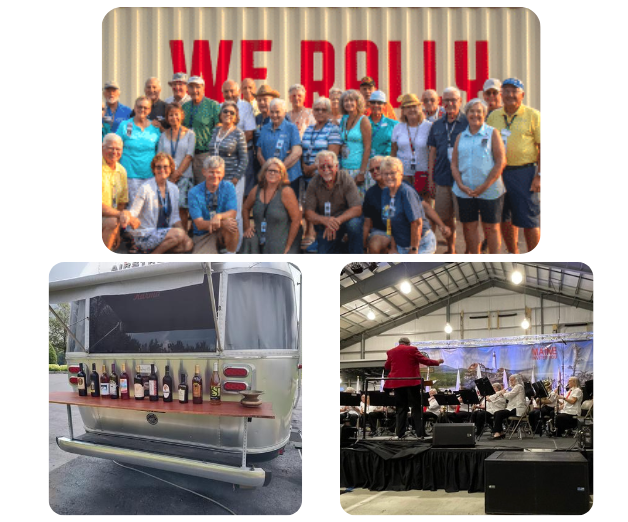 Bring your friends, grab a drink, listen to some music & have a great time!