Join us for the 66th International Rally in Rock Springs, WY
Registration for the 2023 International Rally is now CLOSED. 
CLICK HERE FOR THE RALLY2023 PROGRAM!!
Rock Springs, incorporated in 1888, is the largest city in Sweetwater County. Downtown Rock Springs has a long history of being a stopping point for everyone from early-day pioneers and bank robbers (Butch Cassidy earned his nickname working at a butcher shop in Downtown Rock Springs!) to modern-day travelers.
More about Things to Do in Sweetwater County
A close-knit community of diverse immigrant coal miners from 56 nations laid the foundation of the town's culture. Downtown Rock Springs boasts more than 15 locally owned bars and restaurants that are reflective of the city's multiculturalism. You can nosh on everything from all-American fare at Broadway Burger Station to Mexican food at Los Primos. A Rock Springs landmark since the 1930s, Boschetto's European Market & Deli was founded by Ben Boschetto who immigrated to Rock Springs from northern Italy.
The Bitter Creek Brewery offers legendary microbrews combined with a delectable menu. Remedies is a blast-from-the-past soda fountain and retro-style diner. You can get the best coffee drinks in town at Java Peddler, a unique barista business in a bike shop. For after dinner drinks, the Park Lounge serves up spirits with a smile and even hosts live local music.
Entertainment is easy for you to find in Downtown Rock Springs. The newly refurbished Broadway Theater is a live performance venue that hosts sold-out concerts, special events and other performances. The Community Fine Arts Center features a high caliber of blue-chip art and a performing arts program not typically found in communities the size of Rock Springs.
#ACIRALLY2023
New: "Stay and Play" in the Rock Springs area
Don't want to hitch up and leave on July 1st? Consider staying where you are for a few days and avoid the July 4th traveling congestion. Join the local July 4th celebration held on our site, enjoy some more nearby activities (hiking, birding, target shooting, bike riding, local tours, etc). We're making it easy through a "Stay & Play" Package for as little as $20/night (includes water, sewer and 50A service).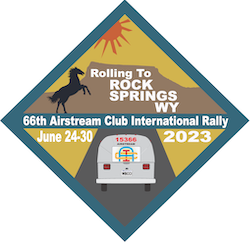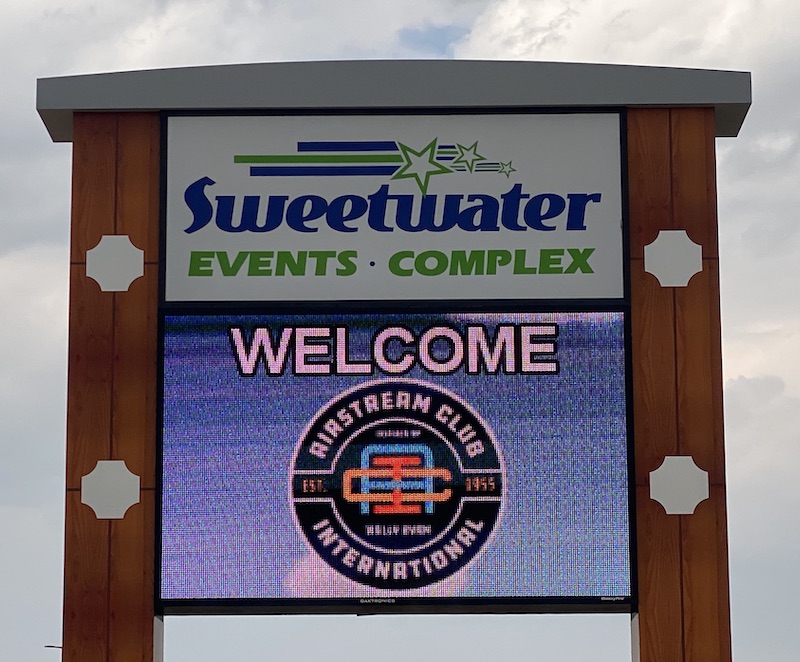 Learn more!
Sweetwater Events Complex
The Sweetwater Events Complex is a large 400+ acre property featuring:
Multi-Purpose Buildings
Midway Pavilions
1,200 RV spots (50A, water and sewer in each spot)
Indoor Arena
Stock Car Track
Grandstands Arena and more!
Sweetwater Presentation at 2022 International Rally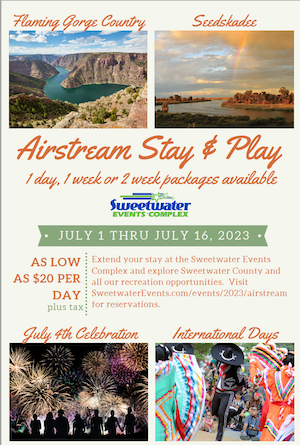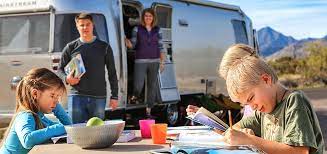 Bring the Kids and Young Adults!
Our 2023 International Rally will be offering all kinds of kid-friendly entertainment and activities, ensuring we are keeping kids safe while making sure they have fun. We will be having age-specific activities for youngsters, grandkids and young adults.
ENTERTAINMENT AND ACTIVITIES INCLUDE:
Get Acquainted session with ice cream
On-site fishing pond
Games
RV parking near playground
Dedicated youth activity area
WiFi studio
Movie nights
more to come...